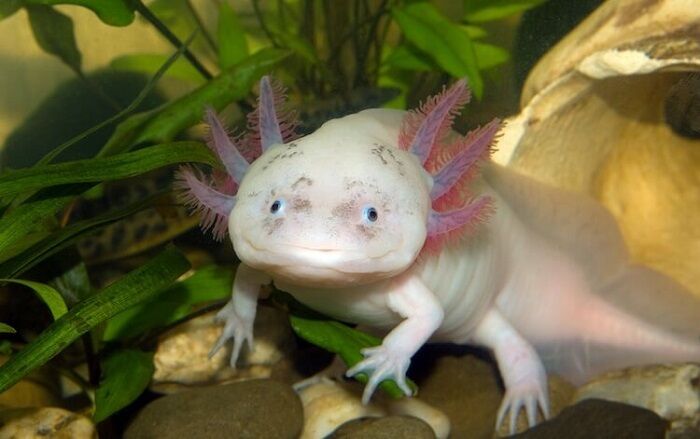 Axolotl Tank Requirements For Your Pet's Comfort And Health
Your axolotl's life span averages around 10 years, so it's important to make sure to pay heed to the axolotl tank requirements. That's so that he'll live out his long life in safety and comfort. Some axolotls actually make it to 20 years; that's rare, but it can happen, so there's even more reason why you want to have all the facts about buying the tank before you purchase your axolotl.
What Is The Ideal Axolotl Tank Size?
As we've already noted, axolotls can live as long as 10 years, or even longer. It's worth keeping in mind that the axolotls who have lived the most years while in captivity are the ones who spent those years in a bigger tank. While the minimum axolotl tank requirement is 10 gallons, you'll find that it's better to house your axolotl in at least a 20-gallon tank, and if you have the room, even a 30-gallon or 40-gallon tank isn't too big. That's because axolotls produce a lot of waste, and waste produces ammonia and nitrate. In a small tank, the levels of nitrate and ammonia can quickly get out of control if you aren't diligent about changing the water often. Keeping the water clean will also keep your axolotl healthy, and a bigger tank is the best option.
They spend most of their tank-time at the bottom, so a tank that's at least two feet long gives them the space they need. Remember that there will be other decorations inside the tank, so space needs to be allocated for these additions. Of course, the tank won't be filled to the top with water.
Best Rated Axolotl Tank Offers
What Are The Axolotl Tank Water Requirements?
The temperature for axolotl tank water requirements should be between 60 degrees Fahrenheit to 64 degrees Fahrenheit, a perfect setting for your cold water axolotl that best replicates the temperatures of their native home. The pH level should be between 6.5 to 7.5. Slightly hard water, from 7 to 8 dKH, is best.
Testing the water for these things, and changing it weekly, will keep your axolotl healthy. The axolotl is vulnerable because its skin is permeable, which makes them sensitive to variations in the water. Meeting the axolotl tank requirements isn't just about gallons; it's also about giving your beloved pet the very best home that you possibly can.
Recommendations For The Best Axolotl Care
Fortunately, your axolotl is pretty easy to take care of. They aren't frail or demanding or fussy. Still, there are certain things to be aware of if your pet is going to enjoy a long, happy, healthy life. While living in the wilds in their native Mexico, they eat fish and snails, but once they're living in a tank, they're best served by a diet of bloodworms, earthworms, and brine shrimp, all rich in protein. You may hear some axolotl owners talk about feeding these pets mice and feeder fish. The axolotl will willingly go along with these treats, but unfortunately, mice and feeder fish could bring parasites with them, causing your axolotl to get sick. They'll need to be fed several times a week; you can feed them with tweezers or long forceps. When they spot the food arriving, they'll have no trouble knowing that dinner is served!
Is There An Axolotl Tank Size For 2 Litres?
Because the minimum axolotl tank requirement is 10 gallons, an axolotl tank size for 2 litres would not be nearly big enough to house an axolotl, which when it reaches adulthood, is around nine inches in length. Axolotls need space to move around, so when choosing a tank, select one that is big enough for your pet, which would be 20 to 40 gallons. Just remember, two litres is the metric equivalent of 0.5283441 gallons.
Best Rated Axolotl Tank Offers
Summary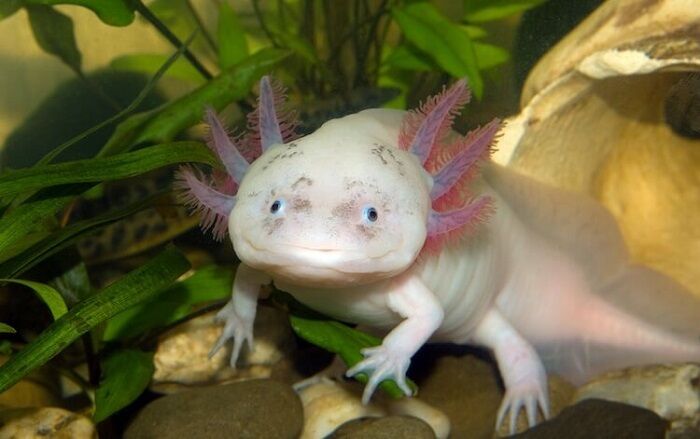 Article Name
▷ Axolotl Tank Requirements 2022 - Axolotl Tank size and Axolotl Care
Description
Your axolotl's life span averages around 10 years, so it's important to make sure to pay heed to the axolotl tank requirements. That's so that he'll live out his long life in safety and comfort. Some axolotls actually make it to 20 years; that's rare, but it can happen, so there's even more reason why you want to have all the facts about buying the tank before you purchase your axolotl. Learn More
Author
Best Exotic Pets Editorial Team
Publisher Name
Publisher Logo