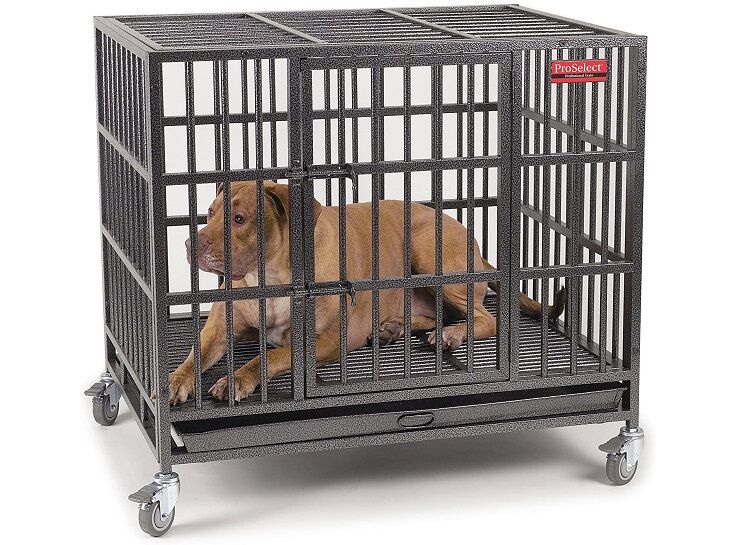 Choose the ProSelect Empire Dog Cage For Your Dog's Safety and Comfort
If you're getting ready to return to the office after more than a year of working from home, and you want to make sure that your dog handles the adjustment well, the ProSelect Empire Dog Cage is the perfect cage to relieve your worries and help your pet with separation anxiety. Our dogs need a comfortable place that's safe and reassuring so that they have a haven to go to when they're feeling anxious or when they can't be loose in the house. The ProSelect Empire Dog Cage has won praise from a number of satisfied pet owners who were searching for a cage that would provide their dog with a comfy, cozy haven that's also escape-proof.
Even if your dog does not suffer from separation anxiety, there are times when crating him is necessary. For instance, if a repair person is coming to the house, the dog might be better crated rather than loose where he might make the workers uncomfortable. When traveling with your pet, whether it's to the vet or to vacation, a secure wire crate keeps him contained without you having to worry that he'll escape and run away.
Size options are important considerations when choosing a cage for our dog. Your pet should be able to sit and turn around in the cage. The ProSelect Empire Dog Cage comes in two different sizes—medium and large—to comfortably house your pet.
Best Offers ProSelect Empire Dog Cage (Medium and Large Cage)
Chose the ProSelect Empire Dog Cage For An Indestructible Dog Crate
When making the choice between a wire or a plastic cage, many dog owners go for metal because they don't want their pet to chew its way out. They also don't want their dogs to get hurt by chewing on plastic. The ProSelect Empire Dog Cage is your solution. The 20-gauge steel is reinforced by 0.5-inch diameter steel tubes so that it's strong enough to resist even the most determined dog's chewing. There are strong welds at the stress points, and the door has formidable dual latches.
The Advantage Of Heavy Duty Metal Dog Crates Over Plastic
When choosing between a metal and plastic cage for your dog, there are some important things to consider. Of course, the durability of the metal cage is a factor; a dog trying to escape from his cage is more likely to chew a plastic model, which not only damages the crate but can also cause the dog to harm himself. Wire crates provide superior ventilation, which is even more important for dogs in warmer climates or breeds with longer coats. Better ventilation also means a better view for your pet; he can see outside the case and be reassured when he spots you, even though he's crated.
Plastic cages might cause a dog to feel isolated from the world outside her cage, heightening her feelings of stress.
Another disadvantage of plastic cages is their tendency to retain odors over time. If your dog has had an accident or two while crated in a plastic cage, those lingering odors can complicate your efforts to provide your dog with a clean, fresh-smelling environment.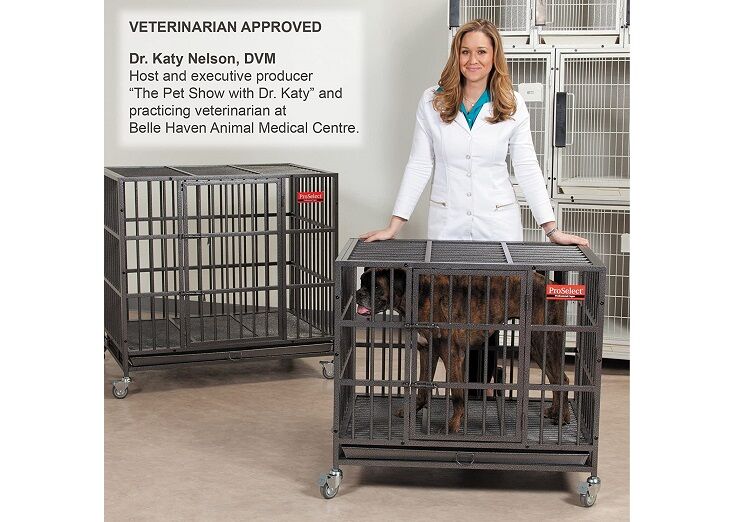 Size Options For The ProSelect Empire Large Dog Cage And Medium Dog Cage
The dimensions for the ProSelect Empire large dog cage are:
Length: 42.25 X Width 30.75 by Height 41.25 inches, to comfortably contain dogs weighing from 41 to 71 pounds.
The dimensions for the ProSelect Empire medium dog cage are:
37 Length X 25.34 Width X 33.75 Height inches, suitable for dogs weighing between 26 to 40 pounds.
Both the large- and medium-size cage come with removable castors and a floor grate with a tray. These features make transport and clean-up of the cage much simpler.
What Are The Advantages of Choosing A Durable Quality Dog Crate
Sometimes it takes a little time before a dog adjusts to being crated. During that time, she may do everything she can to try to get out of the cage because she's not used to being inside it yet. During that time, pet owners want to make sure that their pet will not be able to escape the cage. She may try to chew her way out of the crate, which not only does damage to the cage but, more importantly, can injure the dog as well. In order to avoid this, dog owners who want the best for their pets will select a cage that is durable enough to contain even a large dog who's intent on getting out. As the dog adjusts to his cage, you'll be confident that the thick steel construction and sturdy latches will keep him safe inside.
Buy it now with this Amazon offer!
Best Rated Pet Cages Brands
Summary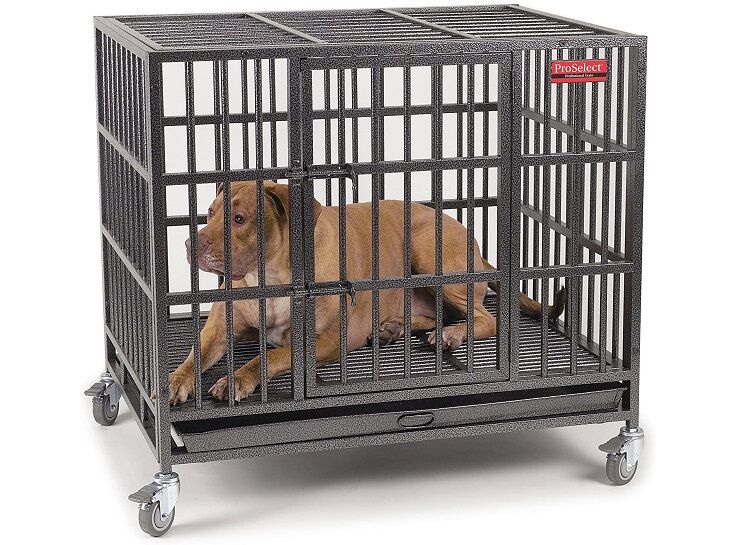 Author Rating





Brand Name
Product Name
ProSelect Empire Dog Cage
Price
Product Availability