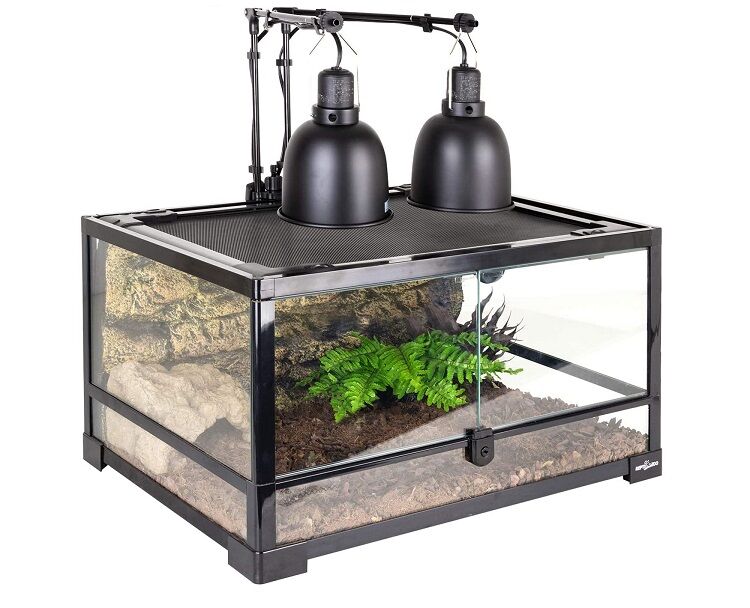 Why do reptiles need heat lamps?
Reptiles are ectothermic and that the main reason why they need heat lamps. They cannot regulate their own body temperatures without an external source of heating and cooling. A reptile heat lamp provides the right sort of heat to make your reptile a happy reptile. Most reptile keepers establish a specific area of the creature's enclosure for basking.
Lizards, snakes, and even tortoises also need UV light rays to stimulate their skin into producing Vitamin D. Different lizards can have different UV requirements.
Heat Lamps for Terrariums
Heat lamps for terrariums are available in a wide variety of bulbs and fixtures. Since terrariums are also sometimes used for plants, read descriptions carefully. In general, heat lamps for reptile terrariums are available in three main types: UV bulbs that will simulate natural sunlight, infrared lights, sometimes called moonlight bulbs, that provide heat but are not as bright as the natural light bulbs. These are used if you need to leave the basking light on during your snake or lizard's sleep time. The infrared spectrum is easier on their eyes. Finally, there are ceramic heating bulbs that do not emit light at all, but that can be used to provide heat. A word of caution about these: you need to be sure that the light fixture is set up for this kind of light as they tend to run hot.
While we are on the subject, fixtures are important. Many basking lights come with a clamp that is intended to fasten to the rim of a terrarium. This can pose a problem, especially if your reptile needs a secure lid to keep him inside his protective home. Alternative solutions include hanging lamps, or a permanently placed post or shelf for the clamp.
Are there any alternatives to heat lamps?
Yes, there are alternatives to heat lamps if all you are going for is heat. There are heated rocks, under-cage heating tapes or pads, and radiant heat sources. However, these sources can have their hazards for your reptile. Heated rocks, if they become too hot, can cause burns. Nor do they provide enough heat to warm the cage area. Under-cage heat is a better choice to create ambient warmth for an enclosure in a cold-weather climate. But none of these solutions provide the UV light rays needed by several species of reptile.
What are some good Lizard Heat Lamps?
Lizard heat lamps often need to include UVB lamps and heat lamps. Zoo Med offers several selections of heat lamps, UV lamps, and fixtures. Another company that provided lighting for lizards or snakes is Wacool. Their large lamp fixture for reptile cages is ventilated and comes with an attached thermometer to help regulate temperatures.
What is the best heat lamp for a bearded dragon?
Bearded dragons absolutely must have heat lamps. In fact, because they originated in the arid parts of Australia when the days are bright and hot, and the nights are cool, Beardies not only need to be warm, they need to be bathed in UVB rays for a portion of each day. This combination makes creating the best heat lamp setup for your beardie a little bit of a challenge. A fluorescent light fixture mounted inside the lid of the tank is the best for UVB rays.
Beardies need UVB rays to stimulate their skin to produce Vitamin D3, which is essential for their bone development and overall good health. If the UVB light is placed above the lid, mesh can filter the rays, diminishing their effectiveness. A heat lamp, on the other hand (which is different from your UVB light) can be placed above the lid, although it is likely to be slightly less efficient.
Both the UVB light and the heat lamp need to be positioned on the warm end of the tank where they can shine on your beardies favorite basking spot. The UVB light can be parallel to the long side of the tank so that its light is not only over the basking area, but also shines on the medium temperature area of the bearded dragon's terrarium. If your home is cooler than 65 degrees, you can position lightless ceramic heating bulbs to maintain a comfortable nighttime temperature for your beardie.
Bearded dragons need a temperature gradient in their cage so that they can regulate their own temperature by moving from the warm area to the cool area or vice versa. This encourages movement and allows them to find the area where they are most comfortable.
At night, you can turn off both the heat lamp and the UVB light. Beardies sleep best if they can have a completely dark den at night. However, the lightless ceramic bulbs can help keep them warm. In the wild, they would probably find a snug den where the earth would retain warmth. Conversely, they might burrow if the daytime temperatures are too hot.
Bearded dragons require fairly specific temperatures. Beardies that are 12 months and old need warm side temps around 90 to 95 degrees Fahrenheit. Juveniles between the ages of four months to nearly twelve months should have temperatures that hover right around 95 degrees. Babies, up to four months, need temperatures between 95 to100 degrees Fahrenheit. They all need the UVB light rays, but the babies might have the greatest need.
The combined heat and UVB light rays encourage activity, stimulate appetite, and help with the production of Vitamin D3 for calcium absorption.
One good bearded dragon heat lamp is the Zoo Med Repti Basking light. They come in a two-pack and work well with a Repti Zoo light fixture.
Fluorescent bulbs are best for UVB rays. The long ones work well because they allow the light to be distributed through the basking and moderately warm areas of the terrarium.
Why do reptiles need a warm zone and a cool zone in their enclosure?
Reptiles need a warm zone and a cool zone in their enclosures to enable them to regulate their personal temperature. Vital resources, such as soaking pools or feeding areas need to be located appropriately. For example, a soaking pool might best be located on the edge of the heated area. Furthermore, while some creatures are curious show-offs who like to be out and about in their enclosure, others like a place to be out of sight. Therefore, there should be hiding places in both the warm and the cold zone.
How can timers and thermostats help with heat lamps in your reptile's cage?
Just as the sun does not stay on twenty-four hours a day (in most places) neither should the heat lamp provide illumination and UV rays every minute of every hour of the day. Timers help regulate the lighted times and the dark times so that your diurnal or nocturnal creature can feel comfortable with the changing light levels. If the light is needed for heat as well as illumination, a red filter can be added to simulate dimness. However, this is where your alternative heating methods come in because they can keep your reptile appropriately warm during the hours when the cage is darkened.
Thermostats, especially if they have an automatic on/off switch, help regulate the ambient temperature in the enclosure, as well as the relative temperatures in the warm zone and the cool zone. This also allows pet owners to leave their homes for several hours without worrying that their reptiles will become too hot or too cold.
Leopard Gecko Heat/light requirements:
Leopard Geckos are native to the Middle East, particularly to sandy deserts and dry grasslands. Although they also need graduated temperatures in their cage, they enjoy a cooler environment than that preferred by bearded dragons. Nor do they have the same UVB requirements. Leopard geckos are crepuscular, that is they like to be out and about in the twilight hours when there is light, but the environment is not as hot as it might be at midday. They like to burrow, and therefore need a den, preferably one made of plastic with some absorbent material that will help them maintain humidity in their hideaway. A heat lamp that will help maintain their enclosure at around 78 degrees Fahrenheit will make an excellent Leopard Gecko heat lamp. One possible selection might be the Zoo Med Daylight Blue/Nighttime red bulb pack. The combination provides all the UVA/UVB required for Leopard Geckos.
Summary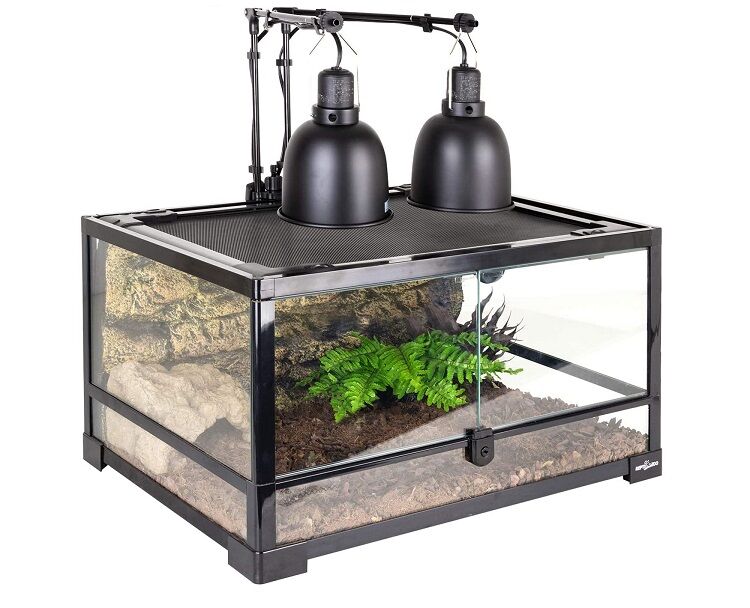 Article Name
▷ Best Practices for Heat Lamps for Reptiles | Alternatives & Thermostats
Description
Learn all you need to know about ✅ Heat Lamps for Reptiles ✅ Reptiles are ectothermic and that the main reason why they need heat lamps. They cannot regulate their own body temperatures without an external source of heating and cooling. A reptile heat lamp provides the right sort of heat to make your reptile a happy reptile. Lizards, snakes, and even tortoises also need UV light rays to stimulate their skin into producing Vitamin D. Different lizards can have different UV requirements. Read More ✍
Author
Publisher Name
Publisher Logo